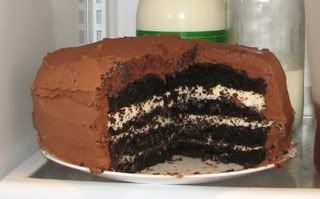 See the Clifford cake, well of course you don't, because Clifford is in the trash, with his pink icing. Well the story goes like this, I decided that since we were trying to do all this healthy stuff that I would make a cake from scratch to avoid the hydrogenated fats and dried eggs and such, of course I made an executive decision to use whole wheat pastry flour. Yes, I know I'm insane. Well, the cake was okay, not excellent, not real good, but edible. Then I decided to make icing with just the butter that I had in the house, so I tried Swiss Meringue Buttercream, hmmmmm, after all the work that I did on it, um, we don't like this kind of icing at all. Of course I tasted it after I tried to dye it red, well that turned out pink. So at 11pm last night I threw the whole mess in the trash and down the sink, decided that it was more important that cake was good than healthy, after all who needs healthy cake and went to the store for cake mix and shortening to make regular buttercream with, lol, as you can tell I got a little carried away with the icing, oh well that can be scraped off a little if need be.
So here's the recipes, all of them are Nancy's, they are all delicious and yet another testimony to the love and cooking expertise of this wonderful woman.

Nancy's Cake Recipe
1 box cake mix, any flavor - this time I used dark chocolate
1 package instant pudding mix, any flavor - this time I used chocolate
4 whole eggs
2/3 cup oil
1 cup water or other liquid - this time I used 1/2 evaporated milk, 1/2 water
Preheat oven to 350 degrees. Mix all ingredients thoroughly. Bake in a 9x13" or other cake pan. Time will vary depending on the pan and liquid chosen.
When she was alive this cake recipe was her secret that she shared with her beloved daughter and daughter-in-laws, I was/am thrilled to be among that group. Now that she lives in heaven with Jesus I wanted to share it because since she's not here to make one for you, you should make it for yourself and think of the most wonderful Grandma you've ever met and that would be Nancy, or Omi, as the kids called her. My favorite combination of this cake that Nancy made was yellow cake, vanilla pudding and water; a 4 layered cake with raspberry jelly between the top two and bottom two layers and Vienna Cream in the middle layer with buttercream frosting over all. I have made tons of different combinations of this cake, aside from chocolate our favorite combinations have been lemon cake with lemon pudding and lemon juice; orange cake with lemon pudding and pineapple juice with one package of orange/pineapple koolaid mixed in the dry ingredients; and raspberry cake with chocolate pudding and milk. One of my favorite things to do with this cake is to separate the eggs, beat the egg whites until stiff, prepare the rest of the cake mix as per usual, then fold the egg whites into the prepared mix. This makes the cake about half again as high when done, and very light textured yet just as rich. I especially like to do this with a citrus flavored bundt cake.
Vienna Cake Filling
1/3 cup sugar
1/3 cup cornstarch
2 cups milk
1 egg yolk
1/2 pound butter
1 cup powdered sugar
Put 2 cups of milk in the top of double boiler with yolk of 1 egg. Bring water to a slow boil. Add sugar and cornstarch. Stir constantly until thickened. Place a piece of waxed paper over pudding and place in refrigerator to cool. When pudding is cool, cream 1/2 pound butter in electric mixer. Add 1 cup powdered sugar and blend in pudding.
This recipe is from Clara's Bakery, Clara is Nancy's mom and evidently quite the baker, although it's hard for me to imagine anyone who was better than Nancy. When totally pressed for time I have cheated with this recipe and made instant vanilla pudding and then blended that with the butter and powdered sugar, it's passable, even good, unless you've ever tasted it made right and then of course it's just a quickie and cheap flavored imitation.
Buttercream Icing
1/2 cup vegetable shortening
1/2 cup butter
1 teaspoon vanilla
4 cups powdered sugar
2 tablespoons milk
Cream butter and shortening with electric mixer. Add vanilla. Gradually add sugar, one cup at a time, beating well on medium speed. Scrape sides and bottom of bowl often. When all sugar has been mixed in, icing will appear dry. Add milk and beat at medium speed until light and fluffy. Keep icing covered with a damp cloth until ready to use. For best results, keep icing bowl in refrigerator when not in use. Refrigerated in an airtight container this icing can be stored for 2 weeks, but needs to be rewhipped before using.
For the chocolate icing I added 2/3 cup of cocoa and enough more milk to make it the right consistency, I lost count but I think it was upwards of 6 total tablespoons. This recipe makes a lot of icing, I had forgotten that and doubled it tonight and I could have frosted the cake that I made, and several other cakes too by the time it was all said and done.